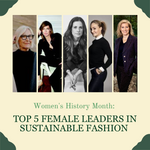 by Sofi Cisneros
As we continue to celebrate Women's History Month, it's important to recognize the leading female trailblazers fighting for an environmentally conscious fashion industry. Whether they're designers, advocates, CEOs, or simply impactful changemakers, these women truly exemplify what it means to be an inspiring female force in today's world: powerful, resilient, and inspiring. Read on to learn about five influential women transforming the way the world consumes fashion.   

1.  Eileen Fisher

Eileen Fisher is a renowned American fashion designer known for her minimalist, sustainable and comfortable designs. Her brand, EILEEN FISHER, Inc., was founded in 1984 and has since become a leader in ethical and eco-conscious fashion. Fisher's clothing features clean lines, muted colors, and high-quality natural fabrics, such as organic cotton, linen, and silk. 
Fisher also created her brand's RENEW program which collects customers' old Eileen Fisher garments to either resell or transform into different products and one of a kind pieces.  Eileen Fisher's innovative designs and commitment to ethical fashion & sustainable clothing manufacturers have made her a trailblazer in the industry.
2.  Sophie Hersan 

Sophie Hersan is the co-founder of Vestiaire Collective, an online reseller of second-hand, luxury clothing. After noticing people's tendency to continuously purchase new garments only to eventually leave unworn in their closets, Hersan created Vestiaire Collective to not only reduce waste and overconsumption, but to promote a circular fashion industry of carefully curated items that maintain their value over time, like highly coveted designer pieces.
With the company's global community and skyrocketing success, Hersan has changed the way that people consume fashion and stands as a leading female figure in the fight for an eco-friendly fashion industry.
3.  Livia Firth 

Livia Firth is an accomplished environmental activist, filmmaker, and sustainable fashion advocate. Firth is the founder and creative director of Eco-Age, a consultancy that promotes sustainability in the fashion industry. Through Eco-Age, Firth has worked with various luxury brands to promote environmentally conscious practices and reduce their carbon footprint.
 
She has also produced a number of documentaries on environmental issues and sustainable fashion, including the acclaimed "The True Cost" (2015). Firth's efforts have earned her numerous awards, including the UN Fashion 4 Development Award in 2013. Her overall commitment to sustainability and environmentalism has made her a prominent figure in the fashion industry and an inspiration to many who seek to promote positive change.
4.  Eva Kruse 

Eva Kruse is a Danish fashion industry leader and sustainability advocate. She is best known as the former CEO of the Global Fashion Agenda (GFA) and leading the Copenhagen Fashion Summit, the world's largest conference on sustainability in fashion. She currently serves as an executive for sustainable fashion label Pangaia. Kruse has also been involved in numerous other green initiatives such as the Copenhagen Fashion Summit's ambitious 2016 strategy plan and her call to action during a moving 2013 TEDx Talk titled "Changing the world through fashion".
 
Her efforts have helped to raise awareness about the need for sustainable practices in the fashion industry and have inspired many fashion companies to adopt more eco-friendly habits. Eva Kruse's leadership in sustainable fashion has made her a respected and influential force to look up to in the fashion industry.
5.  Marie-Claire Daveu 

Marie-Claire Daveu is the chief sustainability officer of Kering, a French-based corporation that owns iconic brands including Gucci, YSL, Alexander McQueen, and more (check out our collections of each brand at their respective links). Daveu has played a pivotal role in developing sustainability strategies for major fashion brands and has overseen the implementation of a number of initiatives aimed at reducing fast fashion's negative impact on the environment. 
In addition to her work in fashion, Daveu is also involved in various sustainability initiatives outside of the industry, serving as a member of the board of directors for the United Nations Global Compact and as an advisor to the French government on environmental issues. 
At Shop Repurpose, we strive to foster an environment where future female pioneers in the fashion, marketing, operations, and upcycling industries are inspired to make a difference and transform the world for the better just as these women continue to do.
So whether you eat, breathe, and sleep fashion, or are holistically committed to practicing sustainability, these five female trailblazers exemplify the unbounding power and capabilities of women within the fashion industry and stand as role models for women and young girls everywhere.