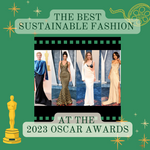 By Sofi Cisneros
The 95th annual Academy Awards occurred on the night of March 12 in a wholesome celebration of 2022's cinematic masterpieces. However, on the film industry's biggest night of the year, all eyes seem to simultaneously focus on another show-defining aspect: the fashion. 
Though this year's champagne-colored carpet was rampant with custom or fresh off the runway couture, several stars opted for archival or sustainably made gowns that proved to audiences that Oscar glam does not have to come at the cost of waste. 
Ahead of the Oscars, the Academy partnered with sustainability organization RCGD Global to release a sustainable style guide and use the award show's large platform to promote green habits within the fashion industry. Whether they donned vintage pieces or eco-friendly fabrics, these stars followed suit with both the film and fashion industry's increasing efforts to lessen its environmental impacts. 

Cate Blanchett 
The "Tar" Best Actress nominee wore a mix of archival and sustainably-made Louis Vuitton. Blanchett regularly re-wears and repurposes her gowns to award shows or dons archival gems as part of her personal pledge to promote an eco-friendly world. For this star-studded night, she opted for a vintage, shoulder-padded top paired with a silky, sustainably made train skirt that gracefully followed her down the carpet. 
Rooney Mara 

Mara arrived dressed to the nines in an archival piece from Alexander McQueen's  FW08 collection titled "The Girl Who Lived in a Tree". Her romantic style gown cinched at the feet and was nothing short of a tulle daydream. 
Vanessa Hudgens

Hudgens graced the carpet in a strapless, black and white vintage Chanel gown. Though simple, the ABC red carpet coverage host exuded elegance and timelessness in this dazzling Audrey Hepburn-esque dress. 
Zoe Saldaña 
As an official ambassador of RCGD's sustainability efforts, Saldaña complemented her SS23 Fendi couture gown with vintage Cartier jewelry and a sustainably-made, satin purse from Tyler Ellis.  
"What strikes me as really relatable is that sustainability inspires us to ask a few more questions, probe a little deeper, and go beyond the aesthetic," the "Avatar" star told The Hollywood Reporter. 
Winnie Harlow 

Harlow
made
her Oscars red carpet debut wearing a vibrant, yellow gown from Armani's SS05 collection, complete with contrasting black zipper and matching rosette. The model paired her vintage Hollywood inspired look with a matching black clutch and an effortlessly beautiful updo. 

Chloe East 

Another RCGD ambassador was rising star Chloe East, who had her big break this year in Steven Speilberg's heavily nominated film, "The Fablemans".  East wore a Monique Lhuillier Fall 2019 gown reworked with sustainable TENCEL Luxe fabric bow detailings in the back. 

And who can forget the equally stunning and sustainable Vanity Fair after party looks…?
Kendall Jenner 
Kendall Jenner in a golden Spring 2008 Jean Paul Gaultier mermaid gown.
Laura Dern 
Laura Dern dazzles in Armani Privé Spring 2006. 
Kerry Washington 

Kerry Washington poses in archival Donna Karan. 
Olivia Wilde 
Wilde donned sustainable brand Gabriela Hearst's gown and bra top. 

Kelsey Asbille

Kelsey Asbille arrived in head-to-toe vintage Maison Margiela.