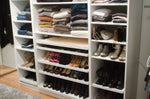 This week cherry blossoms are budding all over NYC which officially marks the start of warmer weather and closet clean-outs. Repurpose has seen an uptick in clothing donations which means while many clothes are on the way out of one closet they are ready to find a new closet to call home.
While we can't wait to share all of the new sustainable items for you to shop, we hope you will also consider cleaning out your closets and donating a few things to us! 
Saturday night I got crazy in my own closet. Here are some practical tips of a pro to successfully clean out yours.  
6 Tips to clean your closet like a pro
1. Prepare your space
Make sure you have a large surface to work off, (carpeted floor or bed works great)  and a few hours to devote to the project (more if you have a larger clothes) 
2. Be ready to pack
Grab several fresh direct bags (covid changed the way I will forever grocery shop) or larger size shopping bags.  Have paper and markers to label bags the following; Clean, Mend, Donate, Sell, Give away.  
3. Start with dresses first.
Similar to the Kondo method, I believe that it is imperative to examine each piece of clothing. So take them all out of the closet, look them over, feel and touch each piece.  This will help determine next steps; going back in closet/stored, being cleaned/mended, donated/sold, or given away.
"If it sparks joy, then it should fit into the first two descriptives, no joy, then it should go into the later."
Once complete, put clothing back into the closet and other piles into respective bags.  Repeat this with remaining categories and then move on to shoes and handbags. 
4. Be okay with the mess.
If the past two years have taught us anything it has been the patience and the ability to deal with chaos.  (Once everything is put back together you feel lighter and brighter. So embrace the temporary mess. ) 
5.  Organize the closet to what makes most sense for you.
My personal preference is organize based first on type, then by sub category and from light to dark.  (IE, Type= Dresses. Subtype = Sleeveless, short sleeved, long sleeve *each subtype goes from light to dark ) 
6. Last check
Again, don't keep items that don't spark joy or that you don't wear. It takes up too much real estate and energy. Let it spark joy to someone else.  
Please consider donating your light loved items to Repurpose. Because giving your clothes a second life can help give someone a new life.
Shop Repurpose Mission
As a non-profit, Repurpose sells your donated pieces to fund grants and workforce development for individuals in need. 100% of our net proceeds go to our grant recipients, who support the health and wellbeing of individuals and families.
We also work with our partners and grant recipients to craft workforce development programming, such as training, mentoring and expanded job placement opportunities. Our 2022 Grant recipients are Bottomless Closet, Win, and NAMI. 
Above all, we believe in empowering individuals, whether through quality clothes or through economic independence. Our network of donors, partners and allies helps us further that mission and we are so incredibly grateful. 
If you go through this process soon, please consider donating your light loved items to Repurpose. Because giving your clothes a second life can help give someone a new life.  
For more information on pick ups and prepaid shipping labels, please contact us here. 
With gratitude,