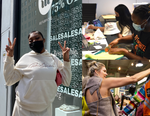 Dear Shop Repurpose Community, 
As I reflect on 2022…our young organization has faced many challenges but has also made so much progress thanks to you. 
You have been a loyal supporter of Shop Repurpose and I want to share the difference you have made. 
Your support this year has allowed us to grow our workforce and offer opportunities to over 50 individuals, offering 1:1 mentorship, training, and skills development to help these individuals succeed.
In January 2022 we partnered with our grantee Win, the largest provider of shelter to women and families in NYC, and hired one of their clients for a part-time sales associate position.  With training and support, Tranaia rose to be the top sales associate in the month of March.
Spring brought us new challenges, as we struggled to find a new home for our retail shop and pivoted to a temporary office location. Our focus this quarter was directed on building out processes and training to implement for our workforce development program. In July, we partnered with NYC Community Development Program and welcomed 10 students from Ladders for Leaders and Summer Youth Employment programs. Simultaneously, we launched our first upcycling program under the direction of our mentor Lizet Rubinos, a top NYC couturier. Our workforce team used upcycled items to create 'new' merchandise to sell in our storefront. A special thank you to J Brand jeans for their generous donation that enabled this initiative to help reduce waste in fashion.
"Working with Shop Repurpose was my first venture into the fashion industry, and I am so grateful for the experience! I was able to work with a very friendly and team oriented group that contributed to the productive environment and produced work that I was proud to do. Overall it was a great opportunity for professional development in a field that I previously interacted with only as a personal pursuit."
- Madison England, Ladders for Leaders, Upcycling Intern Summer 2022
In August, we signed a lease and pooled our resources with a long-standing and established nonprofit, DIFFA, to open our second retail location in Soho. On September 21st we opened our doors, offering an ever-changing inventory of new and resale designer fashions, home furnishings, and accessories. Special thanks to the support of tastemaker and mentor, Robert Verdi and our brand partner, LTD X Lizzie Tisch for her cureated collection of upcycled brands.
In the last quarter of 2022, we beat our monthly sales goals and continued to train and develop our workforce with NYC gov, FIT, and other local colleges. 
Thanks to your support, tremendous progress has been made. 
 Since our inception, we have: 
1) Mentored our workforce enabling 25% of them to attain higher-paid job opportunities and a clearer path to economic independence.
2) Granted hundreds of thousands of dollars to organizations that support women and families.

3) Procured close to a million dollars worth of luxury items through donations.

And, we are just getting started! I hope you will continue on this journey with us.
Your year-end donation this holiday season will fund vital programs to help individuals like Tranaia create a better future for themselves and their families. 

Truly no donation is too small, every dollar makes a difference!

Thank you for your continued generosity. We couldn't do this work without you. Wishing you and your families a wonderful holiday season and a healthy and happy 2023. 

With gratitude,
Jessie Freschl
Founder and Executive Director