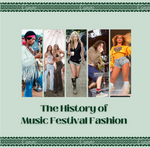 By Sofi Cisneros
Festival season is here, and once again, our social media feeds have become bombarded with the annual slew of celebrity sightings, influencer sponsored trips, and various musicians' year-defining (or if you're Beyonce, culture-defining) concerts. 
Whether it's Coachella, Glastonbury, Lollapalooza, or Rolling Loud, music festivals are momentous events that even those watching from behind a screen look forward to. But for the lucky ones who get to attend, there's an aspect of festivals that even a crowd favorite artist cannot compete with: the outfits. 
In the last two decades, music festivals have become largely synonymous with fashion. For 3 glorified days, celebrities, influencers, and normal people alike prance about these festivals and pose for pictures as if it were the red carpet. 
Meticulously planned out preparations precede these festivals, with influencers intentionally donning promoted brands' clothing and fast fashion pumping out the latest, cheapest festival fads en masse.
Commercialized flower crowns, fringed denim, neon sunglasses, tribal prints, leather jackets, tie-dye, and flannels run amok at seemingly every modern day festival. But how has music festival fashion turned into this uniformity we see today? 
From the 60s to to today 
1960s 
Music festival fashion as we know amalgamated from generations of clothing and music that mirrored the social and political state of each respective decade. Though a one-time-only event, the Woodstock musical festival in 1969 introduced several of today's festival staples. 
Occurring amidst a period of political turmoil in the United States, attendees dressed in freeing, eclectic clothing like vibrant tie-dyed tees, crochet bra tops, reworked denim, or flat out nudity. 
These early festival-goers' fashion reflected their rejection of societal standards as well as hippie and youth culture's desire for global peace and unity as the country underwent an era of political and social unrest. 
1970s
The 1970s also saw a rise in countercultural fashion that seeped into the music festival scene. This decade gave rise to punk culture, an anti-establishment lifestyle that manifested in both music and fashion. 
Rock Against Racism's multi-gig festivals all around Britain featured bands like The Clash and artists such as Elvis Costello. Attendees correspondingly dressed in edgy, heavy metal outfits that included ripped band tees, leather jackets, worker boots, safety pins, and metal studs. Vivienne Westwood and Malcolm MacLaren's booming punk rock boutique played a large role in pushing this punk fashion revolution. 
1980s
Unlike the rebellious spirit of the '60s and '70s, the festivals of the 1980s embraced a more happy-go-lucky feel that's typically associated with the colorful, pop music and fashion of this decade.  
The now famous Glastobury music festival began in 1981, but several charitable concerts such as Live Aid drew in crowds of neon tutus, square Ray-ban sunglasses, polyester tracksuits, legwarmers, slogan tees, and layered jewelry. 
1990s
In another shift of style, the 1990s gave rise to grunge and alternative rock scenes. With new festival Lollapalooza's subversive style and angsty heavy metal sounds exploding in Washington state, the 90s have become associated with laid-back youth culture trends like long hair, flannels, ripped jeans, army boots, and sneakers made for skateboarding. 
Inspired by certain figures and cultures like Kurt Cobain and riot grrrl, the music festivals of the '90s were seas of casual, grungy, and mainly thrifted attire that, similar to the '60s and '70s, spoke to young people's rejection of mainstream culture.  
2000s - today 
At the turn of the millennium, tabloid culture and technology transformed music festivals into global events. People suddenly paid just as much attention to what their favorite celebrities wore as they did to the artists themselves via magazines and social media. 
Two cultural icons forever changed the tide of festival fashion during this decade. When Sienna Miller stepped out in a frayed denim dress, neon yellow sunglasses, a gold-coined belt, and ugg boots at Glastonbury 2004, the world instantly adored her ability to look effortlessly chic. 
Somehow, Kate Moss managed to top the frenzy Miller's outfit created at Glastonbury the very next year when she debuted a glitzy gold dress, a low-waisted belt, and a pair of Hunter boots. With these two icons' revolutionary iterations of festival styles past, festival fashion as we know it was born.  
However, these reiterations of '60s - '90s festival styles became less about self-expression and dressing for the moment, and more about trying to fit the "festival aesthetic". As Coachella rose to prominence in the 2010s, festival goers attempting to recreate Woodstock's blend of international cultures appropriated traditional wear like Native American headdresses and bindis. 
Fast fashion brands mass produce and sell flowy fringe cuts, metal studded garments, leather jackets, or crochet tops and distressed denim vaguely reminiscent of the rebellious decades that wore them first. Influencers and celebrities further capitalize on these trends by taking sponsored trips and flaunting their outfits in promotional Instagram posts. Festival fashion today has become highly commercialized and lost a lot of its originality to consumer culture. 
Working to undo these wasteful habits and instead integrate sustainable fashion practices in festival culture is something that we at Shop Repurpose highly encourage our community to do.      
Beyonce's "Beychella" performance changed all this. Her groundbreaking set at Coachella in 2018 celebrated Black excellence and breathed new life into a progressively conformist music festival culture. She broke music festival fashion rules by wearing clothes that celebrated black culture such as HBCU sweatshirts, a diamond bodysuit with an image of Egyptian queen Nefertiti, and by collaborating with iconic black designer Olivier Rousteing. 
Stormzy similarly pioneered a political wave in Glastonbury the next year by highlighting issues specific to POC and celebrating Black creativity. 
The Afropunk music festival also provides safe spaces for African American attendees to celebrate their culture and enjoy music and fashion that ranges from Afrocentrisim to Afrofuturism. These recent performances provide a glimmer of hope for authenticity and self-expression to once again define musical festival fashion and culture. 
Whether you're planning on traveling to Lollapalooza, flying across the pond to Glastonbury, or staying local at this year's Governor's Ball, make sure you curate your outfits sustainably and with cultural awareness. If there's one thing that festival-goers of the past can teach us, it's that music festivals are all about self-expression, so be yourself and dress to the nines!
Check out our festival inspired looks here for some eco-friendly inspiration.