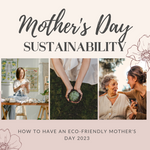 By Sofi Cisneros
This Sunday May 14th is Mother's Day, a global celebration recognizing the mothers and maternal figures who raised and supported us. Whether gifting her flowers or making breakfast in bed, people and cultures around the world honor their mothers in different yet equally as heart-warming ways. 
As a day that traditionally celebrates themes of life, nurturance, and care, we can take this time to additionally commemorate our environment. Our personal mothers as well as Mother Earth have worked in tandem to raise us, so why not show both some gratitude by giving the gift of sustainability? 
Here are 5 eco-friendly ways to celebrate Mother's Day 2023: 
1.  Create eco-friendly crafts and gifts: 
Get your arts 'n crafts on and gift your mom some DIY'ed goodies, or spend the day making them with her. Reuse old newspapers or magazines to create beautiful collages, wall art, timeless scrapbooks, or home decor. If sewing is your thing, take a stab at upcycling your old clothes! Check out some of the work our own upcycling team has done, the 5 environmental benefits of repurposing your clothing, and closet clean out tips from the Shop Repurpose founder, Jessie Freschl. 
2.  Enjoy a nature walk or hike. 
If the weather warrants it, spend this special day strolling through a local park or forest with your mother or maternal figure by your side. You can appreciate the beauty of nature, get some exercise, and breathe in fresh air while embracing all that Mother Earth has to offer. 
3.  Second-hand shop. 
Throw it back to your childhood days of getting dragged around grocery or clothing stores by your mom, and take her on a second-hand or vintage shopping spree. Locate local stores such as Shop Repurpose to gift your mother one-of-a-kind clothing, jewelry, and home goods, or peruse them together on her special day. 
Take a look at some of our favorite Mother's Day finds at Shop Repurpose here. 
4.  Plant flowers or a garden. 
In place of store bought flowers, consider planting them yourself as a gift to your mother, or as an activity you both can spend the day doing. Planting trees, fresh produce, or bright, spring flowers will not only provide a beautiful display, but also give back to the environment. 


5.  Cook a plant-based meal. 
In place of dairy or meat, chef up some delicious, eco-friendly meals for your mom this Sunday. Since the meat industry accounts for about 60% of the food industry's greenhouse gasses, you'll be sure to not only cook some nutritious dishes for your mother, but also make a positive impact on the environment. 
With these ideas and more, you'll be sure to spend Mother's Day creating fond memories and making a positive impact on the environment. Check out our Instagram for more sustainable information and outfit ideas for that special mother figure in your life.