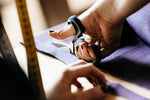 As the fashion industry continues to shift towards sustainability, upcycling has emerged as a popular trend. Upcycling, defined by the unique Kate McGuire of Converted Closet, involves creating new products while preserving the majority of the original product, in contrast to recycling, which breaks down products into raw materials. 
In this article, we will discuss the benefits of upcycling and the impact it has on the fashion industry's carbon footprint.
Benefits of Upcycling:
Upcycling provides a sustainable solution for reducing waste and preserving the environment. Unlike recycling, upcycling keeps the original product intact, which minimizes the impact on the fabric.
Recycled materials can only be repurposed once and can result in lower quality fabrics. Greenpeace reports that only 13% of recycled fabrics can be used at most as mattress insulation. By reusing, re-wearing, and repurposing clothing, the fashion industry can significantly reduce its carbon footprint.
Shop Repurpose: A Sustainable Fashion Nonprofit
At Shop Repurpose, we are committed to creating a more sustainable fashion industry by upcycling damaged luxury clothing. We believe in giving clothes a second life, empowering women in need, and contributing to a healthier planet.
Our Shop Repurpose team of dedicated couturiers works tirelessly to reimagine donated clothes, showcasing their talent while teaching collaboration, self-care, and task management. Each upcycle is a unique experience that promotes social good while providing valuable mentorship to our team.
Empowering Women in Need
Our goal is to empower women in need by giving gently used clothes a second life.
During the pandemic, we have continued to make strides towards our mission by collaborating with organizations like NAMI, Win, and Bottomless Closet. These organizations share our goal of empowering women in need by creating work opportunities, supporting the women's workforce, sheltering the homeless, and addressing mental health challenges.
We ask that individuals take a closer look at their closets and consider donating pre-loved clothing to support our grantees. At Shop Repurpose, we are committed to making a social impact while minimizing our climate impact.
If you want to learn more about our upcycling processes contact us to join our team or take a look at our unique collection of Repurposed items!