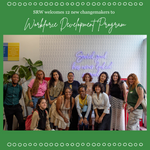 This week, Shop Repurpose welcomed 12 new interns, volunteers, and sales associates as the second cohort of our summer workforce program. 67% of this cohort were connected to Shop Repurpose through Ladders for Leaders which "offers outstanding high school and college students the opportunity to participate in paid professional summer internships with leading corporations, non-profit organizations and government agencies in New York City," and Summer Youth Employment Program, which connects "NYC youth between the ages of 14 and 24 with career exploration opportunities and paid work experience". 
This group of changemakers joining us this summer range from seventeen to twenty-four years old, and comprises so many types of people from soccer-playing fashion designers to future embalmers. After a quick tour though our Soho store, we congregated in a large conference room and learned about Shop Repurpose and were introduced to other workforce and community members.
From there, the cohort split up into respective teams where our new members got acquainted with their roles and learned about other members of their team. 
"I'm looking forward to meeting new people," says Jonathan, an Operations Intern. He's already "enjoying working in the store and dealing with all the new clothing". 
Amadea, also an Operations Intern, is "excited to research the value of items and see them eventually go to the sales floor." She shares that she is "so excited for this opportunity."
Our more seasoned workforce members are eager to work with our incoming cohort. Ivanna, a Repurpose sales associate, is " thrilled to meet the new cohort of creative people and to share a space where everyone motivates each other to learn new things". 
We had so much fun meeting our new team members and we look forward to learning more about them and seeing their growth at Shop Repurpose!