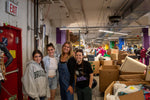 Last Wednesday, Shop Repurpose took a trip to Long Island City, Queens to visit
Materials for the Arts (MTFA),
a nonprofit who has supplied schools, city organizations, and arts nonprofits with free materials and clothing to use within their programs since 1978. MTFA also houses an artist residency program and robust education center which introduces students to the process they call Creative REuse: creating new innovative artworks using reused materials. In their 35,000 square foot warehouse space, MTFA acquires over 1.5 million pounds of supplies each year which support over 4,000 member organizations.
After arriving on site and learning about the organization, one of MTFA'S volunteers showed our team around the warehouse which was filled to the brim with clothing, shoes, office supplies, buttons, fabric, art supplies, and so much more. Almost anything you could possibly need, MTFA had in their warehouse. This warehouse is a dream come true for anyone in the art world. 
As a member, Shop Repurpose is able to shop here free of charge.
Our team spent the afternoon sorting through racks of clothing and putting aside some of the best luxury items we could find. Our team
 left with new purses, shoes, dresses, pants, and so much more. These items will be resold at our Soho store, as a means to support our Workforce Development program. 
The Shop Repurpose team is so excited for this partnership with MFTA and cannot wait to visit and volunteer again soon. Stop in at 433 Broadway soon to see what we found!