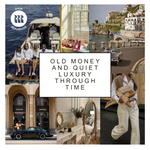 by Lily Billotti
Background  
The 'Old Money aesthetic', also known as 'Quiet Luxury', is an infamous fashion trend based on elegant and understated designs that avoid obvious logos or details; it draws from the concept of generational wealth and powerful ancestry. Quiet luxury aims to be elegant, timeless, and sophisticated; a look that exudes wealth and class without being flashy or ostentatious. Proponents of the aesthetic include famous brands such as Loro Piana, Brunello Cucinelli, Brioni, and Delvaux that feature the classic muted colors and modest cuts. This style has evolved through time as people of diverse backgrounds adapt the aesthetic to their style.
Across Time
Initially, the aesthetic included staples like tailored suits, classic dresses, polo shirts, loafers, and muted colors. This style favors well-made garments that will stand the test of time. Accessories also play a vital role with timeless pieces like pearl necklaces, leather handbags, silk scarves, and luxury watches. Early Old Money and Quiet Luxury icons such as Audrey Hepburn, Jackie Kennedy, and Grace Kelly, and families such as the Vanderbilts and Rockefellers are early examples of where this style came from.
As the style evolves in the modern day, people have added a twist with pieces such as argyle vests, white sneakers, capris, and quilted coats. Streetwear culture has influenced the style, especially in New York City. Fashionistas, including a new, younger cohort, are now rejecting the notion that the 'Quiet Luxury Aesthetic' is only available to the wealthy and famous. The look has shifted from desiring to look wealthy, to making conscious choices in fashion that honor good craftsmanship and sustainability.
Quiet Luxury and Sustainability
Sustainability and Quiet Luxury have become inextricable in efforts to modernize the aesthetic and make it accessible. Instead of buying pricey items straight from brands such as Givenchy, Oscar de la Renta, and Hermes or fast-fashion giants such as Shein, savvy consumers are exercising their agency and creativity and turning to second-hand retailers such as Shop Repurpose to achieve the look for half the cost and twice the environmental impact. Ella Sangster of Bazaar magazine elaborates, "Purchasing from second-hand retailers offers an opportunity to embrace classic stylings without feeding into the cycle of fast fashion." The 'new' Quiet Luxury encourages people to shop the look while also focusing on the environmental impact of their decision.
Quiet Luxury, Sustainability, and Shop Repurpose
Shop Repurpose's mission is to utilize the resale of luxury items to uplift marginalized communities and contribute to developing a more sustainable world, which aligns with the New Old Money initiative to shop second-hand and collect pre-loved timeless pieces. Shop Repurpose sells vintage designer clothing for up to 90% off, which makes the aesthetic more accessible than ever. Our clothing is sourced with the intention of honoring excellent craftsmanship which means you will see a return on your investment; our pieces are made to last and be passed down. 
Our racks are currently overflowing with pieces featured in the HBO series "Succession" and "Billions", which takes a page right out of the Old Money and Quiet Luxury handbook, and this is only a fraction of what is in stock. The shop is home to hundreds of timeless, elegant pieces. Shop Repurpose emulates the ideals of the 'Old Money Aesthetic' by offering a selection of carefully curated, pre-loved pieces that ask our clients to shop intentionally and sustainably.