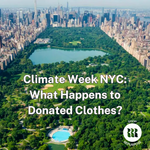 Climate Week NYC: What Happens to Donated Clothes?
What is Climate Week? 
New York City's Climate Week 2023 just wrapped up on Sunday, September 24. Climate Week NYC is an annual event that brings together people from around the world to discuss all aspects of climate change and is hosted by Climate Group, an international non-profit that focuses on driving climate action. This event takes place every year in partnership with the United Nations General Assembly and in coordination with the United Nations and the City of New York.   
Climate Week and the Fashion Industry
It's no secret that the fashion industry is known for the immense amount of waste it generates each year. Responsible for nearly 10% of global carbon emissions, the fast fashion industry generates about 92 million tons of waste every year that ends up in landfills. America alone generates about 11.3 million tons of textile waste each year.  If no action is taken, the industry's waste is expected to double by 2030. 
There were about 400 different events and activities held throughout Climate Week, one of them being Reclypt's Circular Fashion Playground. Reclypt is an upcycled fashion marketplace with the goal of offering a revolutionary approach to sustainable fashion by sharing sustainable skills and knowledge as a community. The Circular Fashion Playground created a fun and exciting way to explore circular fashion. They also held a panel titled "What Happens to Donated Clothes?" during Climate Week on September 17th which our Associate Director, Alexi Mortenson, spoke on.
"What Happens to Donated Clothes?"
The panel was comprised of individuals from organizations all over the sustainable fashion space, all with the same goal: educating individuals on conscious consumerism and appropriate buying habits. 
3 main points discussed during "What Happens to Donated Clothes?" were:
Importance of educating consumers on where they are buying their clothes and how to ensure they stay within a circular fashion lifecycle, in turn reducing the amount of clothing that ends up in landfills

There are many different ways to avoid

overconsumption

such as

upcycling, buying resale items, and making ethical and sustainable choices

when purchasing. 

It is worth the time to research where your clothes are ending up and where they are coming from to educate yourself on the potential harm your buying habits could be causing. 
How Can You Make a Difference?
"There is nothing more sustainable than shopping second-hand, but even more so shopping second-hand quality garments that are built to last," says Alexi on her key takeaway from the panel. Fast fashion items are going to have a much shorter lifespan than a higher quality item would. Buying a higher quality product allows more longevity within the product's lifecycle and leads to less overconsumption of clothing. 
It is also important for consumers to research ways they can give their clothing a second life in a more sustainable way. Donating or swapping clothes locally reduces the carbon footprint associated with overseas shipping. If possible finding local organizations to donate clothes to is one of the more sustainable options to keep in mind, while also giving back to your community. 
Research where you are sending your clothes 
Verify what the organization needs and what clothing they accept
Find clothing collection bins within your community to donate to
 

Our Mission at Shop Repurpose
Shop Repurpose utilizes the resale of luxury items to raise funds and develop programs to support the health and well-being of women and families, empower individuals through mentorship and workforce opportunities, and provide conscious-minded communities. By donating to Shop Repurpose you are donating responsibly and giving back to an organization with a mission to contribute to a more sustainable world. 
Learn more about how you can donate to Shop Repurpose and give your clothing a second life.