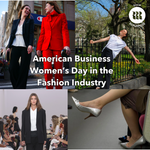 American Business Women's Day in the Fashion Industry
What is American Business Women's Day?
American Business Women's Day honors the accomplishments of businesswomen across the nation. This holiday for women dates back to September 22, 1949, when the American Business Women's Association was founded. During this time, women were able (and encouraged) to leave the house and enter the workforce. It's a time that marks women's independence as they break out of the traditional roles in the home. The American Business Women's Association's mission is "to bring together businesswomen of diverse occupations and to provide opportunities for them to help themselves and others grow personally and professionally through leadership; education, networking support, and national recognition." 
Today is a day that brings together inspiring businesswomen from all across the country who set examples for younger generations through their leadership and initiative. A big part of leadership and empowerment comes from expression through personal style and clothing. For women in the workplace, clothing choices are vital in establishing a professional and powerful image. Power dressing is a term often used to describe the strategic decisions behind how women dress to use clothing as a tool to establish confidence and authority in the workplace. 
Fashion Week and Business Women 
As Fashion Week just wrapped up last Wednesday, some key trends from the runway were softer tailoring, elevated minimalism, and plenty of neutrals. Many designers are aiming to draw their customers back in with more minimalistic styles as consumers are spending less on fashion and more on other experiences. Brands such as Carolina Herrera, Khaite, Altuzarra, and Brandon Maxwell perfectly encapsulate a mix of elegance with everyday wearables. Many designers showcased elevated minimalism throughout their collections which are trends we will continue to see in the workplace throughout the Spring 2024 season.   
Catherine Holstein, founder and creative director of Khaite, uses the word ferocity to describe her collection this season, explaining how "every woman in New York has to handle herself with a real fearlessness." This season's clothing possesses that sense of ferocity that perfectly captures the essence of this holiday and the women it celebrates.  
New Generations of Women in the Workplace
For Gen-Z one of the most crucial forms of self-expression is clothing, being the number one entertainment category Gen-Z spends money on. In addition, Gen-Z work culture is becoming much more business casual than generations before and this will change the way we look at professional workwear. Trends from each season will likely be seen more and more throughout offices and workspaces as more Gen-Z individuals begin to enter the workforce. 
Here are 3 ways you can support women-owned businesses:
Shop women-owned brands and small businesses
Spread the word and increase awareness
Attend events hosted by women-owned businesses to show support 

Shop Repurpose is a female-founded organization with a mission to empower individuals and organizations through the resale of luxury fashion. Discover new items below from Shop Repurpose to add to your everyday work wardrobe: