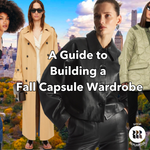 Fall is officially in full swing and as everyone begins to switch out their dresses and shorts for sweaters and jeans, this is a perfect time to consider building a capsule wardrobe.
 
What is a Capsule Wardrobe? 
A capsule wardrobe is a collection of curated versatile pieces that can be combined to create a variety of outfits. A capsule wardrobe may consist of tops, bottoms, dresses, outerwear, shoes, and accessories, but will vary depending on the individual, age, and lifestyle. Stylist and founder of Shop Repurpose, Jessie Freschl, suggests building your capsule wardrobe to fit your lifestyle. "Most importantly, a capsule wardrobe should be an audit of what you wear and why you wear it. Start with your schedule, what are you dressing for? Then build your capsule around that," says Jessie. While the goal is to keep it simple, you can still have fun with your capsule wardrobe to fit your personal style.
In addition to having a variety of options to choose from when building an outfit, a capsule wardrobe is a great way to make more sustainable choices when it comes to your clothing. It is also a great way to save money in the long run by investing in high-quality, timeless pieces that will last you year after year. Your fall capsule wardrobe should contain layer-able pieces that can translate into the winter and spring seasons as well. 
3 Steps to Building Your Capsule Wardrobe 
Evaluate

: Go through your closet and look at what you already own. Decide what you want to keep and what you want to

get rid of.

Create five piles to separate your clothes into:

Clean, Mend, Donate, Sell, Give away

.

Take out every item in your closet and carefully evaluate which pile it belongs in. Jessie also suggests, "

having someone that you trust and whose opinion you value with you when you are going through your clothing because it is so personal."

For clothing that you plan to donate, consider

donating to Shop Repurpose

to give your clothing a second life while also giving back to the community! 

List

: make a list of what items you are missing and will need to perfect your collection. When making decisions on what to add to your wardrobe it's crucial to stick to simple pieces that you can elevate to avoid accumulating more than you need. 

Shop (sustainably): when looking for pieces to add to your collection aim to buy high-quality second-hand, thrift your items, or shop sustainable brands. This limits your contribution to fast fashion and ensures you are investing in higher-quality items that you can wear for an extended period of time. 
Items to Consider Adding to Your Capsule Wardrobe
Jessie suggests adding these key items to your capsule wardrobe if you live in a city/urban environment:
1 pair of jeans 

1 pair of pants that can be dressed up or down

Black and white top or tee 

Blazer 

Wool overcoat 

Great fitting blouse

Black Dress 

Belt 

Flats

Heels 

Sneakers

Boots 

Tote

Clutch or envelope bag 
Shop now
to see what items from
Shop Repurpose
you can add to your capsule wardrobe!