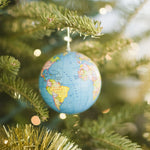 by Sofi Cisneros

The most wonderful time of the year has officially begun! 'Tis the season for spreading joy, cheer, love, and….extreme amounts of stress as the world collectively scours every storefront or corner of the internet for the perfect gift. However, while our holiday shopping woes can be alleviated with a simple click of a button or a swipe of a credit card, it's crucial to be aware of the carbon footprint that our annual gift giving leaves on the environment. In an age of climate consciousness, we must look to alternate methods of spreading holiday cheer to avoid further damage to our world. 
Holiday shopping's devastating effects on the environment are exacerbated by society's culture of overconsumption. Starting with the extraction of natural resources to eventual disposal, the entire supply chain of creating to consuming goods accounts for half of global emissions, according to a UN study. This process becomes abused during the holidays as Americans produce 25% more waste than usual between Thanksgiving and New Year's Day – that's about a million extra tons of garbage each week! 
This year alone, Americans are projected to spend at least $942.6 billion on the holidays, with clothing taking the #1 spot for gifts. This 6% increase from 2021 will inevitably drive waste rates, so it's ever-important to cultivate an eco-friendly holiday season. Without further ado, here are some sustainable methods you can practice this year to have a green Christmas. 
    1.  Thrift and shop second-hand
As microtrends come and go, people are more likely to dispose of last season's bag or last month's newest Tik Tok fad to stay on trend. Instead, gift your loved ones timeless pieces by hitting your local thrift stores or second-hand shops. Doing so creates a circular community that we pursue here at Shop Repurpose by breathing new life into items that otherwise would've been thrown out. Second-hand shops like Shop Repurpose present a myriad of one of a kind pieces that make you look good while avoiding contribution to the 10% of global carbon emissions fashion emits. For an even more money-saving option, head to your local thrift and antique stores like Goodwill, the Salvation Army, or any small businesses to find the perfect gift for your loved ones. 
   2.  Purchase from sustainable brands 
So maybe purchasing second hand isn't your preferred medium of shopping. Maybe your family is accustomed to unwrapping shiny, new, unused gifts. Maybe your best friend never fails to wear the trendiest clothes in the room. In that case, opt for brands that use sustainable, biodegradable materials this holiday season. Be on the lookout for materials like hemp, recycled cotton, or lyocell in clothing and accessories, as well as wood, bamboo, or bio-plastics for everyday products. For your active, gym-rat family members, check out Girlfriend Collective, whose cute athleisure is made of materials like recycled plastic bottles, fishing nets, and other waste. For more high-end, luxury clothing, there's the iconic Stella McCartney, whose nature-positive vision produces everything from vegetarian leather to recycled cashmere.
   3.  DIY your gift
Want to gift something a little more personal and exert some pent up creative energy while doing so? Get crafty and make your present! Take a trip down memory lane and compile all you and your loved one's memories into a photo album or scrapbook. Assemble a personalized mixtape complete with a burned CD. Knit or sew warm winter clothes for family and friends. With this perfect marriage of sustainability and creativity, the DIY Christmas gift options are truly endless. Whatever route you decide to take, you'll be sure to wow your friends and family just as much as you would with a store-bought present.   
   4.  Use sustainable or reusable gift wrap and bags
A Christmas present is not complete without wrapping paper or gift bags. However, your festive efforts to conceal all your holiday shopping comes at an environmental cost – Americans dispose of about half their total yearly paper waste during the holidays alone. Thankfully, there are multiple sustainable wrapping options available both on the market and in your own home. Save our planet – and some money – by using bags you already have around the house. Wrap your gifts with old newspapers or unused maps. If you still crave that feeling of tearing into crisp, fresh wrapping paper, or revealing the contents of a festively adorned bag, consider investing in brands like Wrappily or The Little Market who use recycled newspaper and cotton to make their gift wrap and bags. 
With these methods and more, sustainably celebrating the holidays is 100% possible. Join Shop Repurpose during the Christmas season in applying these eco-friendly holiday habits to shop sustainable, shop responsible, and shop with a purpose.