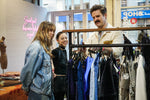 Giving Tuesday by Sofi Cisneros 
After a long weekend of shopping, sales, and splurging, what better way to wind down than with a little bit of giving back? Following the Black Friday to Cyber Monday shopping extravaganza, Giving Tuesday is the official day to donate to your favorite nonprofits. By doing so, you have the ability to give back, change lives, and make an impact on your community. 
Shop Repurpose proudly participates in this annual day of social good. From the resales of luxury clothing from our donors and brands, 100% of our net proceeds fund grants that support organizations who provide aid to women and families in need. With the help of your donations this Giving Tuesday, we can grant funds dedicated to our 2022 grant recipients: WIN, Bottomless Closet, and NAMI. 
By joining our mission of social good, you will have the opportunity to support our growing Workforce Development Program. This program employs hard-working individuals  in jobs in jobs geared towards strengthening the necessary skill sets to help them succeed in the real world. 25% of our employees and interns have since obtained higher paying jobs after their involvement in our Workforce Development Program. Monetary donations that fund it will provide the program's resources and assist individuals in kick starting their careers. 
With your clothing donations this Giving Tuesday, we can expand our circular community at Shop Repurpose. Instead of reselling those jackets in the back of your closet, or the shoes that never saw the light of day, give them a second life by donating them to our store on Tuesday. Repurposed clothes from your closet will not only uplift the wellbeing of families in need, but will promote a sustainable future that's so important to today.  
Join us this Giving Tuesday in our mission for social good. By contributing clothing or monetary donations to Shop Repurpose, you have the power to transform lives, foster a sustainable world, and create positive change. So don't miss out on the chance to join our community at Shop Repurpose this Tuesday!