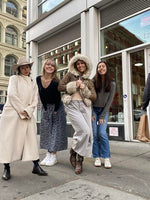 by Sofi Cisneros 
2022 was a pivotal year here at Shop Repurpose as we grew our team into a blossoming community. We partnered with our grantee Win, launched our first upcycling program, joined forces with DIFFA, and beat all of our sales goals since opening our new Soho location in September. None of this could have been accomplished without the generous support from our donors.
As we close out this year, we wanted to put some special emphasis on the progress we've made with our ever-growing Workforce Development Program. This program employs hard-working individuals in jobs geared towards strengthening necessary skill sets that will help them succeed in the real world. 
Workforce member Annalee Hartung started working at Shop Repurpose in April 2022 as a sales associate. Now additionally a resident artist and content creator for our organization, she credits SRW for boosting her confidence and providing her with valuable professional experience. 
"Since I started working for Shop Repurpose, I have seen tremendous personal growth," she said. "The nature of the job requires me to wear quite a few different hats and through this process, I am able to overcome challenges and feel more confident in myself and as a person." 
This summer began a new wave of creative energy as we made huge strides in growing our workforce. In July, we partnered with the NYC Community Development Program and welcomed 10 students from Ladders for Leaders and Summer Youth Employment programs. We also launched our first upcycling program under the direction of our mentor Lizet Rubinos, a top NYC couturier. Under her direction, our workforce team created 'new' merchandise to sell in our storefront using upcycled items. 
Throughout the year, we've continued to hire new interns and volunteers from NYC gov and local colleges like FIT. As we step out into the new year, our goal is to continue to grow our workforce and inspire more budding young adults to strive for social good and acquire skills in retail, fashion, marketing, and more. 
"I really like SRW's mission," said SRW volunteer Rebekah Paszkiewicz. "I believe in the charities that they donate to and by volunteering my time here, it makes me feel like I am giving back to the community."
25% of our workforce have attained higher-paid job opportunities after mentorship here at Shop Repurpose, and we are just getting started. With the help of your donations, we will be able to fund our workforce development program to continue boosting individuals' careers and transform lives. 
"I love our mission, I love our community, and I love Shop Repurpose Wardrobe," said Hartung. 
Thank you so much to everyone who has donated and contributed to expanding our workforce. We are forever grateful for your support and wish you all the best in 2023.