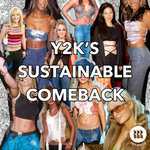 While faced with much uncertainty over the past few years, a sense of nostalgia has resurfaced among many. The Early 2000s were the era of new technology and digital advancements. As technology was on the rise, experimenting with fashion choices was as well. From baby tees, low-rise jeans, velour tracksuits, translucent clothing, butterfly clips, and anything pink and shiny, were the beauty trends of the Y2K era. Spanning from the late 90s to the early-to-mid 2000s, Y2K represents optimism and excitement for this new era, with the main focus being on bold-stating outfits and individuality. 
Y2K and the Rebellion Against Fast Fashion
Gen Z and Millennials breathed life back into thrifting after seeing how easily garments can be adopted into your wardrobe. That's the best thing about Y2K, there's no one definite way to look. This era was about pushing boundaries and experimenting with different materials to create unique styles. While incorporating modern elements Gen Z managed to prioritize sustainability in clothing options. With thrift stores housing these amazing luxury pieces, secondhand retailers like Depop, Poshmark, and your very own Shop Repurpose have now made it easier to buy vintage clothing! 
Contributing to Circular Fashion 
Not only are Gen Z participating in bringing back the Y2K movement, but celebrities like  Bella Hadid, Dua Lipa, and Rihanna are breathing life into pre-loved garments. Inspiring many by showing how Y2K vintage clothing can be embraced into modern looks to create retro and sustainable looks. Shop Repurpose can make you feel like a celebrity but with affordable prices on luxury items. Come shop vintage to help contribute to circular the fashion economy and get your Y2K clothing just in time for the new era of sustainable clothing!