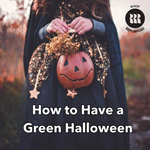 Halloween is just around the corner which means it's time for everyone to bring out their most extravagant and creative costumes. This year we can expect to see all the variations of Barbie as well as lots of Wednesday Addams costumes. Costumes from the 70's are expected to be popular as well with lots of tie-dye, bell bottoms, and fringe. The classic witch and vampire costumes will surely make an appearance as well this season.
Halloween Waste
Halloween is one of the most popular holidays of the year but also one of the most wasteful with consumers spending around $10 billion on Halloween-related purchases including decorations, candy wrapping, and costumes. This year, the NRF expects consumers to reach $12.2 billion in Halloween-related spending and $4.1 billion on costumes alone. Many people often disregard the impact of Halloween specifically when it comes to costumes, but in reality, specialty costume stores are just fast fashion retailers. 
The truth is most people are buying between 1-3 costumes to dress up on "Halloweekend" and sustainability is often not the main focus when it comes to the costume search. Additionally, the majority of these costumes are worn once or a handful of times and then discarded, ending up in landfills. Around "83% of Halloween costumes use non-recyclable plastic, equivalent to around 2,000 tons of plastic waste."
What Can Be Done?
So what can be done to lessen Halloween's effect on the environment? As consumers, it's important to think about the end use of the costume you are purchasing. Will it be thrown out after one wear or is it something you can reuse or repurpose? Keeping this in mind can help you when brainstorming potential costume ideas as well as help guide you on where to shop for costumes. 
Borrow from a friend:

try looking through a trusted friend or family member's closet and see what items you can incorporate into your Halloween costume. 

DIY your costume:

choose a costume you can make out of items you already own, or items you can repurpose and turn into your costume. You can get creative with this and incorporate your fun twist.

Buy sustainably made costumes:

if possible, try to purchase a costume that was sustainably made. This will ensure a higher quality garment with less of an impact on the environment. Shop sustainable costume brands

here

.

Thrift your costume:

thrifting is one of the best ways to find a Halloween costume. You can search for pre-loved, unique items to incorporate into your costume that you'll be able to get multiple uses out of.
Shop now to see what items from Shop Repurpose you can wear this Halloween and incorporate into your wardrobe!