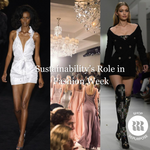 Natalie Lambrelli
Environmental problems with Fashion Week
Fashion Week is primarily designed to incentivize consumers to purchase pieces that have been showcased on the runways. Many brands actually spend time curating outfits that are not even available for purchase, and are never worn again, wasting fabric, plastics, and water used in the manufacturing process.
Of course, purchasing pieces directly from the runway is not possible for the average consumer. Instead, millions of consumers are given additional motivation to purchase from fast fashion companies who provide runway-inspired pieces at a lower cost to the consumer, but a much larger cost to the environment.
Fashion Week is perpetuated by series of events, including showrooms, presentations, and parties, in addition to runway shows. Hosting even a single Fashion Week Event requires thousands of people to travel.
Then, consider the fact that Fashion Week events hosting millions of people occur twice a year in around seven major cities: New York, London, Paris, Mila, Copenhagen, Tokyo, and Seoul. Thousands of individuals even attend events in multiple cities. Traveling for fashion events during Fashion Week alone results in tens of thousands of carbon emissions; in a year, the travel required of fashion industry employees results in about 241,000 tons of CO2 emissions. Non-clothing related materials required to host the events, including paper used for invitations, wood, plaster, and glass used for runway stage designs, and plastic for packaging used for drinks and food are often wasted as well.
Who is leading the effort towards a sustainable Fashion Week?
The Nordic countries of Denmark, Norway, Sweden, and Iceland are leading the effort towards a sustainable Fashion Week. The organizers of Copenhagen Fashion Week were the first, taking concrete steps to reduce their events' impact on the environment.
This move involves requiring brands to measure up or be left out of fashion week events altogether. Event requirements are aligned to the mission of the Global Fashion Agenda and the sustainable development goals outlined by the United Nations, whose goals go beyond carbon neutrality, aiming for a net positive fashion industry via responsible consumption and production practices in the circular economy.
Copenhagen's Fashion Week requirements address various aspects within the clothing manufacturing process: diversity in management personnel, safe labor conditions, prohibiting the destruction of unsold clothes, increasing the quality of pieces, recycling samples and deadstock, producing zero waste runway shows, and educating consumers about sustainability practices on all communication channels.
Similarly: Reykjavík's DesignMarch Design festival utilized primarily upcycled materials, Stockholm's Fashion Week aims to demonstrate "leadership in sustainability", and Oslo's Fashion Week requires designers to sign "an ethical charter for the fashion industry."
Additional suggestions have been:
Combine men and women's runway collections into a single show
Replace environmentally harmful clothing materials for sustainable alternatives
Prioritizing "green-certified" venues
Offsetting carbon emissions
Avoiding plane travel when possible
Take a look at the Future of Fashion Innovation Showcase to learn more about how responsible clothing manufacturing looks like in practice.
Enforcing sustainability requirements incentivizes brands to enact meaningful change.
More importantly, it will help to normalize humane, responsible, and sustainable manufacturing practices and make them the industry standard, rather than the exception to the rule.
Of course, supporting organizations like ShopRepurpose whose primary mission is to expand the adoption of sustainable shopping practices allows you to utilize your consumer power and advocate for meaningful change throughout the apparel industry.
Want some recommendations for shopping sustainable Nordic brands?
Check out Organic Basics, One & Other, and House of Dagmar!
Looking to support sustainable fashion week events?
Our friends at Sunset Boulevard are hosting a show today!
Click here to watch their vintage designer pieces LIVE on the runway.
Click here to shop the pieces after the show!