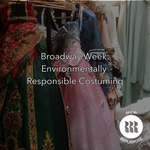 Natalie Lambrelli
Happy Broadway Week!
As we celebrate Broadway (and snag 2 for 1 ticket deals!), let's turn our attention to an aspect of Broadway that is easily overlooked by casual attendees: costuming!
Costuming is vital to the heart of any show (both on and off Broadway).
Strategic clothing design allows costume designers to communicate characters' personality to the audience and empower actors to assume their character's identity.
Though the fashion industry and costuming industry differ in their processes, objectives, and audiences, their main similarity is their deliverable: the continuous production of clothing.
Other similarities? The problem of textile waste and questions regarding environmentally responsible production.
The Broadway Green Alliance and the International Green Theater Alliance are leading the effort towards transforming theater into an environmentally net positive industry. They work in tandem with the National Resources Defense Council, another non-profit organization comprised of a team of "some 700 scientists, layers, and other environmental specialists" that works towards securing the health of the environment and humankind.
The Broadway Green Alliance's goal for industry-wide net positivity can seem far-reaching, but its methods are more simplistic. Expectations that substantial changes to industry practices will be made overnight are unrealistic. Instead, the BGA encourages seemingly small yet meaningful modifications and provides free educational resources to help facilitate the adoption of these behaviors.
The hope is that, over time, awareness of a production's impact and responsible action become industry standard.
Admittedly, environmentally responsible action can require more effort and money from a production crew. However, many modifications to standard practices that contribute to great reductions in a production's environmental impact are very easily implemented. Even substitutions such as switching out washing machines for new energy efficient models and replacing disposable batteries with rechargeable battery packs saves considerable amounts of both energy and money.
Interestingly, costuming seems to be an area where consistency in sustainable practices is lacking. In a recent PlayBill article, "make sustainability an important consideration in design" was listed as a concrete step towards environmental responsibility that is "still to do".
However, the existence of the Sustainable Production Toolkit and BGA's own Sustainable Costume & Wardrobe Resources prove that there is a growing awareness of the need for action.
Progress is being made, even if slowly.
BGA's Sustainable Costume & Wardrobe Resources provides a comprehensive list of New York local and National thrift, up-cycled, indigenous-owned, and accessible and size-inclusive brands. Much like Shop Repurpose.
In contrast, the Sustainable Production Toolkit is more educational. It places a strong emphasis on the need to source and use textiles responsibly. Most importantly, it reminds readers that "sustainability" is not a trendy marketing buzzword. It reflects a global environmental responsibility: a duty owed both to the planet and to the minority groups whose humanity is violated by unfair labor conditions perpetuated by the fast fashion industry. Similar to BGA's document, the SPT also encourages local sourcing, in addition to reusing and trading fabrics and environmentally friendly laundering practices.
Shop Repurpose is proud to be a part of the movement towards global environmental responsibility.
Choosing to purchase pre-loved, quality clothes that can be carried over into multiple lifetimes brings novelty to your closet and limits the impact of the textile industry on the planet.
In this way, you are shopping like a Broadway costume designer, preparing yourself for the show that is your life!