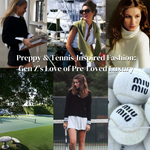 Preppy & Tennis Inspired Fashion: Gen Z's Love of Pre-Loved Luxury
Natalie Lambrelli
With fall around the corner and the US Open dominating social media, preppy, tennis-inspired looks have taken center stage. In the age of social media and the emergence of Generation Z as primary consumers, let's delve into how Gen Z's concern for the environment has impacted their shopping habits. In particular, how they access fashion trends.
Sustainability, Social Media, and Fashion Trends
Like all generations, Gen Z is defined by a unique set of characteristics. Gen Z is particularly known for their openness to experience and change, knowledge of environmental issues, feelings of personal responsibility, and commitment to action. This explains their willingness to adopt patterns of consumption that are more sustainable, distinguishing themselves from other generations. Compared with previous generations, Gen Z more consistently ranks climate change as the primary global issue and expresses a greater desire to take actions that will mitigate the effects of climate change. Gen Z utilizes their spending power to communicate this attitude, prioritizing companies with demonstrated commitments to sustainability.
These attitudes have been spread and are reinforced by opinion leaders, or individuals who are able to influence others' perceptions of a product, a brand, etc. Opinion leaders include family, friends, social media influencers, etc. Research shows that social media plays a key part in affecting these consumption patterns. In particular, the data shows that sharing pro-sustainable attitudes increases individuals'' intent to purchase sustainably and willingness to spend additional money on sustainably produced clothing. 
Naturally, as Gen Z has become more educated on matters related to sustainability, they have come to understand that the dangers of climate change are exacerbated by fast fashion. The antidote? Choosing pre-loved, quality clothes.
By investing in pieces of clothing that are pre-loved and of good quality, consumers shop sustainably, are more satisfied with their clothes, and wear them more frequently and for a longer period of time. This means that when trends like preppy and tennis-inspired outfits re-emerge, Gen Z more consistently accesses them via sustainable routes.
The Preppy and Tennis-Inspired Trend: Once Unattainable, Now Accessible
Originally derived from collegiate-style outfits first sported by Ivy League students, preppy style has evolved. While preppy style respects the boundaries of its own subculture, it has become somewhat more diverse since its inception. Preppy style in 2023 affords individuals more flexibility to borrow and combine staples from different decades (like bowling shirts from the 50s or mini pleated skirts from the 90s) at their discretion. 
A more niche adjacent to preppy style, tennis-inspired athleisure (including polo shirts, athletic dresses and skirts) similarly originates from a population of privileged individuals who had leisure time and enough money to annex a tennis section to their closet. In fact, the "tennis whites" which have become emblematic of the sport emerged as a form of elitism, given that lower classes would not have as much time or as many means by which to keep tennis clothes white.
Considering this in conjunction with Gen Z's preference for pre-loved clothing (which is often accompanied by a steep discount- like at Shop Repurpose!), it becomes evident that previously unattainable styles have become more widely accessible to all.