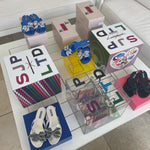 We were honored to be the selected charity this past weekend at the LTDXLizziePalooza event hosted by none other than style icon, Lizzie Tisch! Shop Repurpose is always searching for supporters who want to join us in empowering women and families in need. As a non-profit, we believe charity begins in the closet, and wow, are we glad to have the support of Vanity Fair's International Best-Dressed List Hall of Famer, Lizzie Tisch!   
A portion of all sales raised from this event will directly impact Shop Repurpose's workforce development program. Shop Repurpose partners with various educational institutions and with the NYC Youth Development program to provide employment and job training opportunities to create sustainable lifestyles and showcase the social good fashion can bring.
LTDXLizziePalooza is not the first event LTD has hosted and we certainly hope not the last! Lizzie introduced a range of designs from Kevin Mathurin to the fantastic work of Lisa Davis. She also showcased the artistic talent of Hazy Mae's cookie jars and the paintings of Ben Lenovitz. The Pop-up shop experience ran from Friday July 15th to Sunday 17th and was another fun success in LTD's incredible five years. We applaud the chance she has given to up-and-coming designers and building up the communities around her. We are honored to be part of her lineup!  
For more information on how you can donate clothing or monetary contributions, please click here.
By Gabriel Guivas