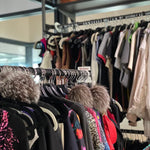 As we near the end in our flash sale, we want to give insight on how and why we can do these events for our customers. Our mission is to gather gently used luxury clothing to provide them with a second life and send 100% of our net proceeds to support women in need. We aim to raise as many funds as possible, and what better way to achieve that than to give shoppers the best deals possible? Our goal for this sale is to create more deals, delivering a more affordable entry to do social good. Customers shop and save extra with sale pricing and give their remarkable support to our 2022 grant recipients. 
Every dress, shoe, and bag has the chance to make a substantial impact, so for a limited time, every piece of pre-loved luxury clothing is 25% off. We have accessories and dresses to compliment your outfits for the season, and each purchase makes waves of change. Breaking women out of the cycle of homelessness or providing better job opportunities is just the beginning. Have a look at our grantees, such as Win and NAMI, and see how your purchase positively affects women. 
Shop Repurpose also offers countless luxury brand clothes to empower women, and this is the best time to do social good at a fantastic price. Designer pieces from Valentino to Chanel are on sale, ready to make a difference in someone's life. Every purchase moves us forward in our mission to elevate women in need, allowing them to lead comfortable and confident lives. Join the movement to uplift women by looking and feeling your best with Shop Repurpose's Flash Sale by clicking here.
By Gabriel Guivas