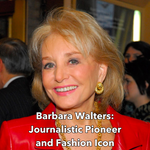 Journalist and Writer Barbara Walters is a name known and loved by many. A trailblazer paving the way for many women in journalism. In a male-dominated career, Walters was not welcomed with open arms. Despite these challenges, she persevered and made her voice heard, leaving behind a legacy like no other. Barbara Walters was a force to be reckoned with. Her probing yet causal approach to interviewing and her unforgettable fashion statements left her mark on the world.
The Beginnings of a Legend 
Born on September 25, 1929,  Barbara was the daughter of Dene Seletsky Walters and Lou Walters. She had two older siblings, Jacqueline and Burton Walters. In 1937 Barbara's father Lou relocated her family, to open a nightclub expanding from Boston to Miami. Unfortunately, he attended many social gatherings oftentimes leaving Barbara to watch over her sister who had a mental disability. Around the same time, Barbara also attended Fieldston and Birch Wathen private schools. Walters attributed her ability to be relaxed amongst public figures to constantly being surrounded by celebrities in her youth. She also believed caring for her sister gave her patience and empathy which helped her throughout her career.
After graduating from Miami High School in 1947 and Sarah Lawrence College in 1951; Walters briefly worked at an advertising agency becoming the assistant to the publicity director for a New York City NBC-affiliated TV show. With her strong ambition and determination, she soon became the first million-dollar-a-year network anchor.
The Strength of a Woman
The rise of Barbra Walters was not an easy one. Being a woman in any male-dominated industry is difficult, but being one of the first women to pave the way was ambitious and admirable. After writing material for CBS's Morning Show, she was hired by NBC to be a writer and researcher for the Today Show. However, during this time there was a high level of sexism in the industry, and most of her assignments were directed toward female subjects. Walters fought back and for months she pushed for a real assignment, traveling with First Lady Jacqueline Kennedy to India and Pakistan. Working in her favor, this assignment pushed her to the forefront and gave her a boost in the network. By 1964 Walters made a name for herself on the Today Show and was even given the nickname "Today girl."  However, the unfair treatment continued. 
Despite being a co-host for 10 years, she wasn't given an official listing until 1974 and was prevented from asking questions to the show's serious guests until her male co-hosts finished. Tackling important topics, Walters stayed on the show honing in on her unique interviewing skills. Her intelligence and camera presence made her one of the most popular personalities and she was chosen to be part of President Nixon's press corp to China. 
In 1975, Walter's received an Emmy for 'Best Host'. From then on, her career only went upward, signing a deal with ABC to become the first female co-anchor and highest-paid journalist at that time. Toward the end of her career, she created her talk show, "The View" before retiring and leaving the door open for many women to come.
The Rebrand of Chanel Suits
Barbara Walters not only dominated daytime TV, but she also had an impeccable fashion sense. Walters paired bold power suits with layered necklaces and a coiffed bob making it her statement look. During this time Chanel suits had been revived and refreshed with it being the new uniform for socialites signifying sophistication, luxury, and elegance. 
 In January 1989 Walters shocked the world when she wore a resplendent pink Chanel suit when she sat down for her biggest interview with Muammar Qaddafi. A black-trimmed pale pink suit that went with a matching jacket and a skirt grazing just above the knee with black sheer stockings. A black silk camellia brooch that was a signature look for Chanel. Accessorizing it with dazzling yards of Chanel gold chains and pearls, Walters made Chanel suits the statement of feminine power and greatness. 
Shop Repurpose is honored to have received a large donation from The Barbara Walters' Estate to benefit our mission of empowering the next generation of change-makers.
Shop here and join us in our mission by shopping our collection of Barabra Walters' iconic wardrobe throughout her career from brands like Ralph Lauren, Giorgio Armani, Chanel, Burberry, and Roberto Cavalli.