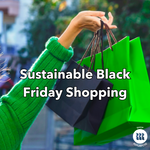 Tis the season to shop sustainably. With the holidays fast approaching and panic to find the best gifts, we know how to make your Black Friday greener. Black Friday may have been created as a major shopping event to save consumers money while giving them the best deal, but the reality is that it's one of the biggest contributors to environmental harm due to the waste generated. In this digital age of online shopping, Black Friday is becoming more and more harmful every year.
The Negative Impact of Black Friday
Black Friday is one of the busiest days for businesses everywhere. With discounted and exclusive prices, this event garners large crowds of consumers. While Black Friday may have been a good marketing concept, it has been shown to negatively impact the environment, workers, and your bank account! The fashion industry, specifically fast fashion, is one of the biggest contributors to global pollution, promoting overconsumption and increasing its carbon footprint. In the digital age, Black Friday means more online transactions increasing emissions and generating more waste. This Black Friday is estimated to generate 429,000 metric tons of greenhouse gas emissions. The waste does not end there, since companies are promoting this overconsumption with unnecessary and unwanted cheap goods produced with low-quality and unsustainable materials. This means the material doesn't last and we end up throwing items away. In fact, a staggering 80% of Black Friday purchases are thrown away after a few uses. Not only does it affect the environment, but workers as well. Production at large amounts means overworking people who are not getting paid livable wages and often working in terrible conditions. Black Friday seems like a great deal on the surface but, it causes substantial damage to our planet and workers.
How to Shop Sustainably on Black Friday 
Not all companies are bad for these major shopping events. There are plenty of businesses new and old that are going green! As a consumer, you can go green as well by following these 5 tips:
5 R's: Before you shop look in your closet and apply the 5 R's in sustainability. Reduce, Rewear, Recycle, Repair, and Resell. Making space for new clothes by donating them is a great wait to help someone in need while staying sustainable.
Shop Local: Shop at Local brands and support communities at home. Here at Shop Repurpose, we have good quality luxury items that last ensuring a long closet life. Choose quality over quantity. 
Giving Tuesday: Participate in Giving Tuesday which encourages generosity. A movement to inspire more kindness and graciousness. That's what here at Shop Repurpose with every purchase you are helping us with our mission to help individuals reach higher education and job placement opportunities with our Workforce Development Program.
Shop Vintage: Minimize Online Shopping by vintage shopping. It may be hard but online shopping causes large amounts of gas harming our climate. By shopping in stores, you're more likely to find better items and reduce carbon dioxide emissions.
New brands and Fair-trade products: By shopping small brands that promote ethical practices like Good on You. While additionally having great resources to discover new clothing, ethical brand ratings, and more! Look out for a fair-trade certified symbol, ensuring it was made ethically while promoting equity for all.
Let's make this holiday season environmentally friendly. By taking the time to make conscious consumer choices, giving back to your community, and shop vintage!  Shop here to see what items from Shop Repurpose you can find this holiday season!