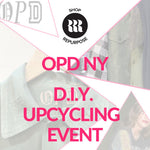 Join us on Wednesday, October 26th from 6-9pm for a night to learn DIY upclycling techniques from founder and designer, Nicole Pitiger of OPD NY. Bring in a tee from your own closet and learn some great hacks to make it uniquely your own.    
Space is limited so please RSVP ASAP and feel free to bring an upclycling or thrifting enthusiast! See the invitation and details below.
OPD DIY UPCLYING EVENT TO SUPPORT SHOP REPURPOSE 
Date:

 

Wednesday, October 26, 2022
Location:

 

Shop Repurpose SoHo Collective Shop 433 Broadway New York, NY 10012
How to Prepare:

 

Dig out an old tee (rock and roll, college tee, plain old one) and any upcycling friends or family that might want to join.
We hope to see you there!