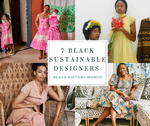 By Sofi Cisneros
February is Black History Month, a time devoted to emphasizing and commemorating the achievements of the Black community in America. Since 1976, historically underrepresented African American voices have become amplified during this month in a celebration of Black talent and excellence. 
Today, SRW recognizes Black fashion designers who strive for a more sustainable future. Here are 7 Black designers and their brands we think you should follow to lead a more eco-friendly – and stylish – lifestyle: 
Founder and self-proclaimed "New York City transplant" Aurora James created Brother Vellies in 2013 with a commitment to decrease fashion's carbon footprint. Using materials like "vegetable-tanned leathers, soling from recycled tires, hand carved wood, floral dyed feathers", Brother Vellies sources their materials from farmers around the world. 
Their one-of-a-kind shoes and accessories maintain traditional African styles that celebrate cultural histories and exude an element of luxury. James' designs have been seen on celebrities like Zendaya, Beyonce, Lupita Nyong'o, and AOC at the 2021 Met Gala. 
LA based designer Autumn Adeigbo began her eponymous brand in 2016 after extensive exposure to the fashion world through her Nigerian mother's knack for creating her own clothes and her extensive resume of fashion accolades and awards. What sets her brand apart, however, is her mission for sustainability – every piece of clothing is produced only when ordered. This method minimizes fabric waste, excessive manufacturing, and surplus stock. 
Autumn's playful, vibrant, and always patterned or textured clothing bleeds femininity, grace, and singularity, as each item is hand-crafted by a 100% female workforce. It's a sustainable brand made by women, for women. Adeigbo's designs have been worn by Lizzo, Gwenyth Paltrow, Zooey Deschanel, and more.  
Designer Tracy Reese launched her namesake brand back in 1998, with influential figures like Michelle Obama, Sarah Jessica Parker, and Oprah Winfrey all donning her dresses. But it was in 2019 that Tracy established Hope For Flowers, her sustainably produced collection, to spread awareness on the importance of slow fashion, female empowerment, and positive change in the world. 
Using only biodegradable materials such as organic cotton and organic linen, Tracy's newly sustainable approach to fashion has led her to produce everything from tropical, resort-like dresses to twee, plaid jumpsuits. 
4.  House of Aama, Rebecca Henry and  Akua Shabaka 


Mother daughter design duo Rebecca Henry and Akua Shabaka created House of Aama in 2015 to explore the "folkways of the Black experience by designing timeless garments with nostalgic references informed by historical research, archival analysis, and storytelling."
Their ethically sourced clothing embodies the ethos of the African continent and diaspora by sparking dialogue and social commentary through a medley of traditional African practices and modern pieces that pertain to the Black community in America. Crafted 100% in LA with a made-to-order policy, their collections feature dainty, Southern Victorian dresses, retro-patterned swimsuits, silk sarongs, and much more.  
Taylor Jay founded her label with one empowering goal in mind: to create timeless, comfortable pieces that mold to fit every woman's body type and can sustainably withstand any circumstances that women today have to face. 
Whether in need of a special birthday dress or sweats to lounge around the house in, any woman is sure to walk away from Taylor Jay's website with pieces that emphasize versatility, comfortability, and fashionable flair. Taylor Jay is based in Oakland, CA and partners with an ethically sourced, fair labor practice factory to create her eco-friendly clothes from certified, environmentally safe textiles. 
Author, environmentalist, cartoonist, and designer Maya Penn can do it all. She's been featured in Forbes magazine, Oprah, The View, NPR and more; given three viral TEDTalks; and received a commendation from President and First Lady Barack and Michelle Obama for outstanding achievement in environmental stewardship. However, it's her fashion label (that she began at a mere 8 years old) called Maya's Ideas that started it all. 
Maya founded Maya's Ideas in 2008 and has been designing sustainably sourced products ever since. Using old, vintage fabrics or organic biodegradable materials such as organic cotton, hemp, or bamboo, Maya creates everything from cozy knit scarves and cardigans to elegant jewelry. This young powerhouse inspires us to always seek out environmentally conscious options and preaches that no dream is too big to pursue. 

Jo-Anne Vernay specializes in luxury vegan footwear made 100% from Piñatex, a type of fabric made from pineapple leaves. Harvested in the Philippines, Piñatex is an alternative leather that leaves a low carbon footprint and is 80% biodegradable.
Flaunting pumps awash with bold hues and feathered detailing, Dyandra's shoes display ultimate luxury and sustainable style. Her 12 year retail/fashion career combined with her vegan lifestyle inspires Dyandra to follow a slow, circular manufacturing process while maintaining an element of quality and uniqueness. Who knew pineapples could make for such chic shoes?